Rockpool Beach House, 4 Samuel Street, Dongara 6525, Western Australia | Phone 0400 238 012 | Host Debbie Thompson
Holiday accommodation in Dongara
Comments from Visitors to Rockpool Beach House
"Thanks for letting us share this little bit of heaven … the house … the view … awesome!"
J Bright
"If you've just arrived…words can't describe how wonderful this place is. If you're just leaving…cheers to another fantastic stay at Rockpool!"
Bradnam Family
"Fabulous, fantastic family location. So great to be kid friendly."
Nelson Family Reunion
"Location, location, location! Great view – comfortable bed and furniture – everything you could possibly want. Wonderful floor plan, plenty of space."
Pauline & Brian. Victoria
'Loved it. loved it! I will be back. Thank you for such a great house and time. P.S. My lotto dream!"
Kathryn. Muckinbudin
"We had a fantastic time here. The house caters for all. Great location, beautiful house, wonderful time. Recommend this place to everyone. Well done Rockpool Beach House. Love this place."
Janelle. Mukinbudin
"What a beautiful, spacious house! Great design. Thanks for the bit of flour and sugar. Hadn't planned to bake, but made apple crumble and custard on a cold, rainy night. Lovely firm bed. Great kitchen, pretty views, what more could anyone want?"
Frances and Terry
"What a great place to stay. We had a great time. The house is a credit to all who are involved in running it. Everyone's efforts before we arrived has made our stay a relaxing one."
Wickham crew
"Great place guys, especially for the kids – already booked next year and the year after!"
Scully Family
"Magnificent house, great facilities. Had an enjoyable weekend crabbing, fishing, counter lunches and plenty of drinks on that fantastic deck."
Woody Family
"Big kids, little kids paradise! A perfect house for us all, perfect weather, perfect holiday."
McCullogh Family
"Awesome place – the house is excellent! You've thought of everything. Well done. We will be back."
Boykett Family
"Excellent house, weather and location. Fishing, boating, beaching and 4WD. This place has the lot. Thanks for a great holiday."
Moore Family
"Came to celebrate a 25th wedding anniversary – 5 couples, lots of fun, lots of food, lots of laughs – the perfect place to view and relax without any hustle and bustle. Thoroughly enjoyable."
"Well done on a fantastic well appointed house, fantastic views, close to the pub! Something for everyone. We had a ball."
Nobbs Family
"Marvellous house, gorgeous outlook. We had a great time.'
Goodmans, UK
"Wonderful weekend of rain, sunshine and surf. What a beautiful house in a fantastic location."
Marnoni Family
"We had a wonderful and relaxing time at this beautiful beach house. The views are breathtaking and the kids love being near the beach."
Louise, Ange, Ben, Josh, Pat and Alec
"We have had a lovely time staying here, the setting is ideal, the house is beautiful and extremely comfortable. We would highly recommend this house to everyone."
McPherson and Roche Families
"We had a 'scrapalicious' time again! This place is awesome… See you again in six months time!"
Alison, Nat, Tania, Lauren and Chele
"What can I say – this place is magical. It provided the perfect base for for the perfect weekend for our perfect wedding. Love the house, love the position. This whole weekend will be forever in our hearts and this house was instrumental in our fun."
Tim and Ebony Pearse
Perfect for two families, or just two people enjoying a romantic weekend getaway. Rockpool Beach House is fully self contained and sleeps up to 9 guests.
The holiday house has 4 bedrooms and 2 bathrooms with:
2 queen size beds
1 double bed
1 bunk bed with a double on bottom and single on top
4 single beds
The entire central living area has expansive views overlooking the Indian Ocean. Dining and lougn areas are beautifully furnished and include reverse cycle air-conditioning/heating, flat screen TV, DVD player, stereo, yoga mats and a large collection of books, games, DVDs and magazines for you to enjoy.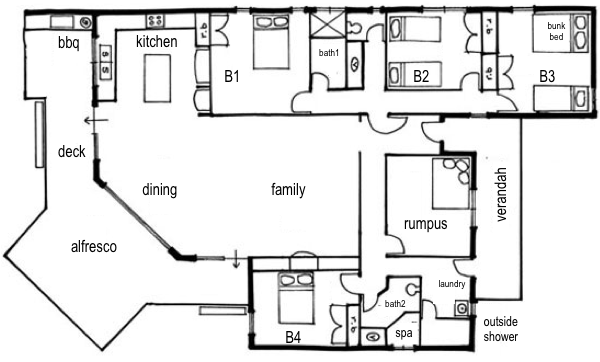 All you could want
The kitchen is fully equipped with dishwasher, microwave and a servery window with easy access to the alfresco deck area with a built in barbecue and sink facilities.
A separate 'hang-out' area for the children and teenagers consists of a large day bed piled with cushions, a TV with inbuilt DVD player, DVDs, a dolls house, toys, books and games.
Bedding is quality linen and doonas, and fluffy bath towels are provided.
There are two bathrooms including a relaxing pebble rimmed spa bath. Outside, an outdoor shower washes off the sand and salt from the beach.
The laundry is equipped with washing machine, drying rack, clothesline, pegs, iron and ironing board.
Don't forget to bring an esky with ice or an engle to keep your drinks icy cold.
The holiday house perimeter is fully fenced and contained. There is undercover parking and plenty of room in the spacious yard for boats, bikes, surfboards and beach buggies.  A new recreational boat ramp is located conveniently close to the holiday house.
Best of all, complimentary use of our crab nets is a fun way to catch a feed from the jetty opposite Rockpool Beach House. Best months are Sept, Oct, Nov, Dec, Jan, Feb, March and April